Creating a designer smile 
Most of us would like to improve something about our teeth – whether it is a whiter smile, less chips, cracks or gaps between teeth, or oddly shaped and sized teeth. When there are several flaws present, the best approach to achieving a designer smiler are porcelain veneers. In this week's blog, we look at porcelain veneers and what's involved in attaining a designer smile.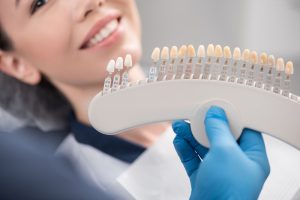 What are porcelain veneers?
Porcelain veneers are thin pieces of porcelain used to create the natural look of teeth, while also providing the strength and resilience comparable to natural tooth enamel. They are typically the material of choice for those wanting to make slight position alterations or changes to the tooth shape, size, and/or colour. 
How do they work? 
Porcelain veneers are made of several thin ceramic layers, which replace original tooth enamel, and an adhesive layer. To apply a veneer, a tiny amount of the original tooth enamel must be removed. This vital step creates room for the porcelain veneer to fit in the mouth and correctly restore the natural tooth function – while creating a better looking tooth at the same time.  
The bond between the original tooth and porcelain veneer is critical, as it not only produces the desired designer smile but also the strong bond, necessary for correct veneer function. After this, light-sensitive resin is placed between the original tooth and the veneer before being hardened using a special curing light. 
The benefits of porcelain veneers 
The first advantage of porcelain veneers is their indistinguishability from natural teeth. As veneers are specifically created for each individual patient, it is extremely difficult to identify whether it is a veneer or not. The second benefit of veneers, as opposed to crowns, is that your natural teeth remain largely intact – with only a tiny amount being modified to fit the veneer. Veneers are also great for teeth that resist whitening as veneers can make even the darkest teeth look white. The final benefit of porcelain veneers is that they can quickly fix minor overlaps, twists and small gaps.  
At Eden Rise Dental, we can help you create the designer smile you desire. We offer porcelain veneers, as well as a range of other cosmetic dentistry services such as teeth whitening, dental implants and dentures. To learn more or to request a consultation, please call us on (03) 9702 6111.